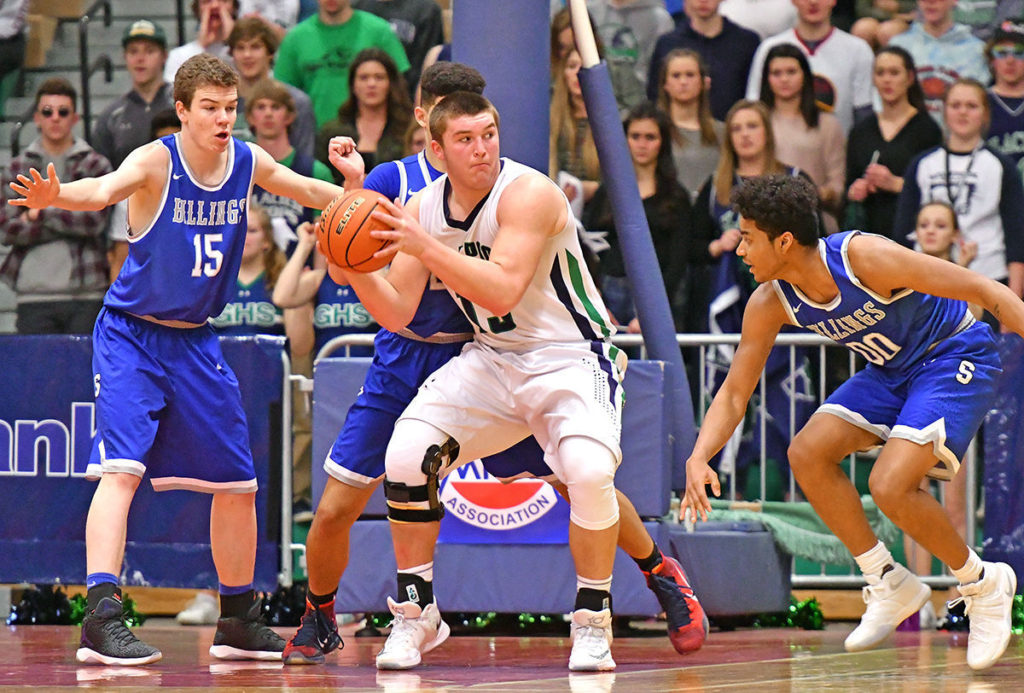 GREAT FALLS — Locked in a physical bout with the two-time defending state champs on Friday, Glacier held Billings Skyview scoreless in the final two minutes of regulation, beating the Falcons 48-40 in the semifinals at the Class AA state boys basketball tournament, advancing to the first state championship game in school history.
The Wolfpack defense came up huge against Skyview, slowing down the normally potent Falcon offense in a halfcourt contest. That pace allowed the game to stay close, yet Glacier still trailed with 2:19 to play after Skyview senior RayQuan Evans floated a shot in the lane to give the Falcons a 40-39 lead.
Glacier responded, with junior Caden Harkins racing down for a layup in transition to retake the lead. On the next possession, senior center Jaxen Hashley worked his way to the free-throw line, making the front end of the pair, but missing the second.
That is when Glacier took over on the offensive boards, with Kody Jarvis skying for the rebound and kicking it to Harkins, who was fouled and sent to the line again. Harkins hit the first of his free throws but again missed the second, only for senior Patrick O'Connell to pull in the offensive rebound for the second straight trip, kicking it back to Harkins, who was fouled for two more shots.
By the time Harkins made those two, Glacier went from down one to up five points with 1:05 to play.
"That was huge," said Harkins, who scored eight of his game-high 14 points in the last 2:03 of regulation. "That was a key play. We really needed that."
While Glacier iced the game at the free-throw line, it continued to clean up Skyview's chances on the other end, holding the Falcons scoreless for the final 2:19 to secure the victory.
"It's a battle of tempos. Their tempo, our tempo," Glacier coach Mark Harkins said. "If we play their game, there's no way we can win. I thought the kids did a good job of controlling tempo."
Glacier outrebounded Skyview 25-16 in the second half, limiting the state's top offense to 17 points.
"At halftime we were down four rebounds as a team," Glacier senior Jaxen Hashley said.
"We came back and ended up out rebounding them by six. That was a great team effort by all of us. Pat and Torin, our fours, both rebounded like crazy in the second half. That's a big turning point for us, rebounds, not giving them second-chance points."
"It's not a pretty game but as far as competing, I've never seen them compete like that," Mark Harkins said.
The game started slow as both teams tried to get into a rhythm. There were a combined eight points between the squads in the first four minutes, with each turning the ball over in droves trying to run the floor.
Skyview got out first, as Evans got behind the Glacier defense on consecutive possessions, hitting four free throws after being fouled in transition to give the Falcons a 13-6 lead.
Glacier senior Tadan Gilman brought the Wolfpack back into it by the end of the frame, hitting a 3 and following up the next miss to cut Skyview's lead to 13-11 after the first quarter.
The Wolfpack was able to take its first lead midway through the second quarter, 20-19, by feeding Hashley in the post. Skyview retook the lead shortly after, only for Hashley to get a steal in the last five seconds and sprint to the other end for a layup at the buzzer, putting Glacier in front 24-23 at half.
Both teams struggled in the third quarter, Glacier going scoreless for more than three minutes and Skyview more than four minutes. The Falcons closed the quarter on a 5-0 run to lead 30-28 entering the fourth.
Skyview built a 36-32 lead midway through the fourth and Glacier answered with a 7-2 run to retake it before the closing flourish.
Hashley matched Harkins with 14 points and added 16 rebounds to lead Glacier. Gilman had 11 points in the win.
Zharon Richmond led Skyview with 13 points.
"Honestly, I can't put it into words," Hashley said. "Skyview's a great basketball team. We came in and knew we were going to have to play a great game and work our hardest. Obviously, it paid off. It's a great feeling right now but it's not over yet, we have one more game we want to win."
The Wolfpack will play Bozeman in the championship, the Hawks beating Great Falls 54-52 in the final seconds of the other semifinal. Glacier beat Bozeman 66-62 on its home floor in December, the last game before the holiday break.
"I think we know what to expect," Mark Harkins said. "They're completely different than they were in December. We know athletically how good they are. You can talk about those things but until you see them it's different. That's a good thing for us."
"It's going to be a different game, of course, but hopefully we can have the same result as the first time," Hashley said.
It was the first win for Glacier in four appearances in the semifinals, the Wolfpack falling in three chances from 2012-14.
It is the first state title game appearance for a Kalispell school since Flathead beat Glacier in the semis in 2012. A win would secure the first state title for the city since 1989.
Glacier is scheduled to tip against Bozeman at 6:30 p.m.
Glacier 11 13 4 20 — 48
Skyview 13 10 7 10 — 40
GLACIER — Caden Harkins 4-9 6-8 14, Tadan Gilman 4-9 2-2 11, Collin Kazmier 0-1 0-0 0, Brec Rademacher 1-6 0-0 3, Jaxen Hashley 5-23 4-8 14, Pat O'Connell 1-2 0-0 2, Torin Bowdin 1-3 2-2 4, Jack Desmul 0-1 0-0 0, Kody Jarvis 0-2 0-0 0. Totals: 16-56 14-20 48.
BILLINGS SKYVIEW — RayQuan Evans 1-9 5-6 7, Steven Fisher 1-11 0-0 2, Tyler Kinghorn 0-1 3-4 3, Zach Schmirdt 3-7 0-0 6, Zharon Richmond 4-12 5-6 13, Logan DeGaven 3-4 1-2 9, Zach Schact 0-1 0-0 0. Totals: 12-45 14-18 40.
3-point goals—Glacier 2-9 (Gilman 1-3, Rademacher 1-5, Hashley 0-1), Skyview 2-15 (Evans 0-2, Fisher 0-4, Schmidt 0-3, Richmond 0-3, DeHaven 2-3). Rebounds—Glacier 42 (Hashley 16), Skyview 36 (Kinghorn 6). Total fouls—Glacier 17, Skyview 18. Fouled out—none. Technical fouls—O'Connell, Kinghorn.